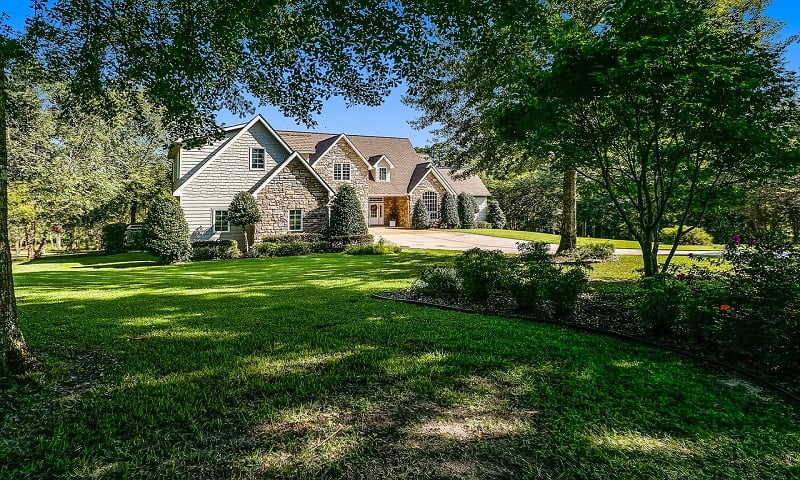 Beautiful Homes Nestled Among Acres of Green Hills and Pastures
Among Ocala's estate homes are some of the most unique architectural masterpieces in the state of Florida. Do you long for wide open spaces and lush green fields? Then find your dream home here!
Ocala's Estate Homes
Ocala boasts some of the most amazing estate homes in the state of Florida. Of course, the ultimate example may be the home of movie star John Travolta. John and his lovely wife Kelly Preston were among of the first couples to purchase land in the Jumbolair Aviation Estates, our fabulous residential airpark. Their home is an upscale wonderland. Additionally, it features an astonishing 16-car garage which houses their fascinating automobile collection. However, first and foremost, the actor is a flight enthusiast and certified private pilot who owns five aircraft. Therefore, it's only fitting that the John Travolta's house has two runways that lead directly to his front door! "We designed the house for the jets and to have the ability to access the world at a moment's notice, and we succeeded at that," John Travolta said on Australia's "Today" show.
"I can't call it modern. it's really a mid-century style home," actor John Travolta says of the Florida house. "John had a vision of how he wanted everything to be," says designer Sherri James. "We just implemented his ideas."
John Travolta's Qantas 707
Travolta has been a Qantas "ambassador-at-large" since 2002 and keeps his personal Qantas Boeing 707 in the yard of his Florida home. His relationship with Qantas started when Travolta procured his pilot's license and flew a Qantas 707 to Sydney to promote the 2001 movie Swordfish. "I've been really able to operate out of this house for business and personal reasons. Therefore, they have been the best years, in terms of my personal dreams coming true. Being part of an airline, part of aviation… at a magnitude like Qantas. They're the best airline in the world since they have the best safety record, the best service, and to be part of that and to be allowed in… it's a privilege", the aviation addict explained.
Of course, the Travoltas take great pride in their home, a unique example of the city's architectural masterpieces. Additionally, Ocala's millionaire's row, the states of Golden Ocala, and various horse farm estates offer other grand examples. These estate homes will soon be joined by the mansions of World Equestrian Center Estates. If a grand estate is what you seek, look no further than Ocala. You are sure to be impressed by what you find here.
Why does John Travolta live in Ocala? Read here.
"Nothing influences people more than a recommendation from a trusted friend." - Mark Zukerberg