Most common mistakes sellers make can be easily avoided, and the benefits of doing so are great. Learn the statistics and we are sure you will agree that it's worth the effort.
No matter what challenges the housing market presents, the process of selling a home can be daunting. Some sellers have a hard time saying goodbye to a treasured family residence. Others look too far ahead. They focus on the fun that awaits them in decorating and settling into a new place. Almost all want to sell at the highest price possible.
Whatever your circumstances, the road to the closing table may be riddled with obstacles, like issues with showings and negotiations, inspection surprises and title problems. But many complications are avoidable when you have a skilled and knowledgeable real estate agent by your side.
For example, here are seven common mistakes that many home sellers make. Each can increase anxiety, cost you time, and reduce your proceeds at closing. An experienced Realtor can help you avert many missteps and make your road to closing a low stress, enjoyable journey.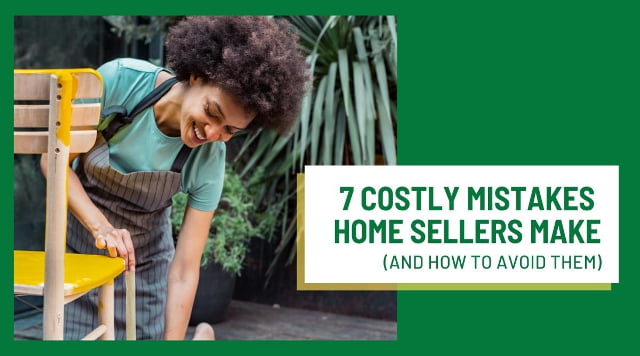 MISTAKES SELLERS MAKE: #1 – Setting An Unrealistic Price
Many sellers believe that pricing their homes high and waiting for the "right buyers" to come along will net them the most money. However, overpriced homes often sit on the market with little activity. As they do so, the "WWWI" stigma can attach. After a while, potential buyers begin to wonder, "what's wrong with it?".1 As a result, the home may languish on the market even longer. That will certainly lead to price reductions that will impact your bottom line negatively.
It may sound counter intuitive, but in today's competitive market pricing a home fairly will generate high buyer interest. That in turn will often result in a bidding war which maximizes your selling price.2
To help you set a realistic price from the start, we will prepare a comparative market analysis, or CMA. This integral piece of research will help us to recommend a competitive listing price based on the prices that similar properties have recently sold for in your area. Without a CMA, you risk pricing your home too high and having it sit on the market, or too low and leaving cash on the table. Buy listing your home at a realistic price, you will be avoiding problems, while protecting your equity.
MISTAKES SELLERS MAKE: #2 – Trying to Time the Market
You've probably heard the old saying, "buy low and sell high." But to the extent that implies timing the market, it is easier said than done. Delaying your home sale until prices have hit their peak may sound like a great idea. But it is a risky proposition. Here are some thoughts to consider:
Predicting the market with certainty is nearly impossible. How will you know when prices have peaked? Probably when they have begun to drop precipitously and you look back on what you could have sold your home for had you acted sooner.
If you wait to buy your next home, you will face risks as well. If you are upsizing and prices rise, you will gain on the sale of your home, but lose more on the purchase of your next home. Of course, if you are downsizing and prices move down, you will also come up short in the end.
If mortgage rates are rising, as they are today, your pool of potential buyers could shrink and you would have to pay more to finance your next purchase.
Trying to time the market is a fruitless endeavor. Instead of doing so, you would be wise to choose your ideal timeline. This may be based on factors like your personal financial situation, shifting family dynamics, or the seasonal patterns in your neighborhood. Then let us help you choose the time to sell that fits your individual circumstances best.
MISTAKE #3: Failing to Address Needed Repairs
Many sellers hope that buyers won't notice a leaky faucet, broken shutters or other similar issues during showings. But encountering minor issues like these can leave buyers wondering what more serious and costly problems lurk out of sight.
Then, when you do receive an offer, there's a high likelihood that professional home inspectors the buyer will hire will flag such defects in their report. Of course, neglecting to address more critical issues will predictably cause more serious problems. For example, buyers may react by asking for costly repairs or a reduction in the purchase price. Of course, they may also simply decide to walk away.
To avoid these types of disruptions, it's important to make necessary repairs before your home hits the market. We can help you decide which repairs and updates are worth your time and investment. Additionally, in some cases we may recommend a professional pre-listing inspection. The key is being informed so that you can make sound decisions and protect the equity in your home.
A little extra time and attention before listing can help you avoid surprises down the road. Of course, the strategy is to identify and deal with any structural, systemic, or cosmetic defects that could jeopardize a future sale.3
MISTAKE #4: Neglecting to Stage Your Home
Staging is the art of preparing your home to impress potential buyers. The goal is to "set the stage" for buyers to form a great first impression of your home and visualize living in it. Some sellers ignore the benefits of staging and instead focus on the cost and effort it involves. But that is a mistake that may in fact cost them time and money. A 2021 survey by the Real Estate Staging Association found that staged homes typically sold faster and for thousands more.4
Indoors, staging can include redecorating, painting, rearranging furniture and furnishings, removing personal items, decluttering, and deep cleaning. Outdoors, it's all about curb appeal. Therefore, you might focus on power washing, planting flowers and maintaining your lawn and beds.
The important thing to understand is that almost every home can benefit from some aspect of staging. Before you list your home, we can refer you to a professional stager or offer our insights and suggestions if you prefer.
MISTAKE #5: Evaluating Offers on Price Alone
When reviewing offers, most sellers focus on one thing, the offer price. While dollar value is certainly important, the highest offer is worthless if the deal never reaches the closing table. That's why it's important to consider other factors as well. Therefore, you would be wise to weigh the following as you evaluate offers:
Financing and buyer qualifications
Depending on your circumstances, some factors may be more important than others. For example, if you are still shopping for your next home, you might place a high premium on an offer that allows for a flexible closing date or a leaseback option.
Buyers and their agents are focused on crafting deals that work well for them. We can help you assess your needs and goals to select an offer that works best for you.
MISTAKE #6: Acting on Emotion Instead of Reason
It's only natural to grow emotionally attached to your home. That's why so many sellers end up feeling hurt or offended at some point during the selling process. Low offers can leave you feeling insulted. To be sure, you may judge negative comments about your decor to be disrespectful. However, these are emotional reactions.
To make sound decisions, you must keep emotions in check and treat the sale of your home as a business transaction, nothing more and nothing less. You would be unwise to miss an opportunity because you refuse to counter a low offer or negotiate minor repairs. We can help you weigh your options pragmatically. It is our responsibility to provide dispassionate advice with your best interests in mind. That is why you hire a Realtor.
MISTAKE #7: Not Hiring an Agent
There's a good reason almost 90% of homeowners choose to sell with the help of a real estate agent. Note that while homes listed by agents averaged a sales price of $316,000, those listed "for-sale-by-owner" sold for $56,000 less. Statistics reported in a recent study by the National Association of Realtors confirm this fact.5 Of course, many factors combine to explain this difference, so please don't assume that when you list with an experienced Realtor, you can expect your home to sell for 22% more. However, the important thing to note is that a number of these factors do come into play when you hire a Realtor.
Selling a home on your own may seem like a great way to save money. But in reality, that is not how things usually work out. Buyers realize that FSBOs save on commissions. Therefore, most respond by offering less as a result. That is one of the reasons that trying to go it alone is on our list of mistakes sellers make.
Additionally, experienced Realtors provide great value to their clients:
Their guidance will help you to avoid time and money consuming mistakes.
They will help you to negotiate the best price and terms.
Their marketing efforts will expose your home to the widest audience possible.
If you choose to work with a listing agent, you will save significant time and effort, while minimizing your exposure to risk. Additionally, by implementing effective marketing and negotiation strategies, your Realtor is likely to generate more cash at closing for you. The value of these benefits will surely more than offset the cost of your agent's commission.
BYPASS MISTAKES SELLERS MAKE WITH THE HELP OF A KNOWLEDGEABLE GUIDE
Your home selling journey doesn't have to be difficult or stressful. When you hire a professional as your listing agent, they will execute a customized marketing plan designed to get top dollar for your home, while being there every step of the way to ensure that everything progresses smoothly. If you are thinking of buying or selling a home, learn to avoid mistakes sellers make. Let's connect today to schedule a free consultation. As the saying goes, "The best time to start is yesterday. The second best is today!"
Sources:
The Washington Post 1
https://www.washingtonpost.com/business/2019/07/22/just-because-its-sellers-market-doesnt-mean-you-should-overprice-your-home/
Realtor.com 2
https://www.realtor.com/advice/sell/spark-a-bidding-war-for-your-home/
American Society of Home Inspectors 3
https://www.homeinspector.org/Newsroom/Articles/Before-You-Sell-6-Reasons-to-Get-a-Pre-Listing-Inspection/15766/Article
Real Estate Staging Association 4
https://www.realestatestagingassociation.com/content.aspx?page_id=22&club_id=304550&module_id=164548
National Association of Realtors 5
https://www.nar.realtor/research-and-statistics/quick-real-estate-statistics
---
"Owning a home is a keystone of wealth, both financial affluence and emotional security."― Suze Orman
---
The bond of trust between a homeowner and his Realtor is the very essence of the home selling process. A top Realtor values it beyond all other aspects of the profession and will always put the client's interests first.
Andrew Kruglanski, MBA, ABD, Broker
(352)234-3048