Ocala homes listed for sale are in short supply. Keep informed. Make the journey to the lifestyle you desire an exciting & successful adventure.
So you want to sell quickly and at a great price! Staging is your answer.
Ocala, Among the fastest growing metropolitan areas in the U.S.
Our city is a fast growing metropolitan area known as the horse capital of the world. It outpaces even Kentucky as a breading ground and training hub for thoroughbred racing horses. However, what is less known is that this area has been attracting major corporations and exceeding all expectations in job creation. But equally important is the fact that these are high quality jobs which pay wages well above expectations as well.
The C.E.P.
Over the last few years, the Chamber of Commerce has merged with the Economic Partnership. Since the new CEP has an extraordinary working relationship with the Mayor, the City Council and the Marion County Commission, the three work together like a well oiled machine. Therefore, businesses enjoy a responsive economic environment where decisions can be made in days. Since they don't face a typical government bureaucracy, major corporations respond by doing their strategizing and decision making quickly as well. Therefore, it is not surprising that they are drawn to the Ocala area.
The C.E.P. is also launching an entrepreneurship program in several less advantaged areas. Its aim is to teach residents the skills needed to build small businesses and give graduates access to the resources they need to be successful. The theory is that by increasing economic opportunity, the Chamber will help to revitalize the areas economically and offer residents the keys to brighter futures.
Our C.E.P., its outstanding leadership and proactive members have been instrumental in propelling the Ocala economy in an ever upward direction. With a "no-one left behind" philosophy, they have expanded economic opportunity for everyone in every socioeconomic sphere. Therefore, it is no surprise that Ocala is evolving into a cosmopolitan area which offers lifestyles to suit every taste and every desire. It is quickly becoming an ideal place to call home with exciting prospects for the future.
The Economic Impact of the World Equestrian Center
But it is the new World Equestrian Center, which opened in early 2021, that will be a game changer economically for metro Ocala. The center will employ two thousand people, and bring many thousands of visitors to the Ocala vicinity. Since infrastructure will need to be expanded to accommodate the center, many more jobs will be created. However, infrastructure will not be the only thing required. Demand for services, retail and Ocala homes will grow dramatically. All of these forces will create a perfect storm of economic growth, a growth that will snowball down hill for many years to come.
We envision an expansion of our road systems and the enhancement of the capability of our airport to allow it to accommodate air traffic from all over the world. Perhaps train transportation will be included in the area's civic planning. We have heard that a convention center is also in the early planning stages.
Communing with Nature
Ocala also offers many exciting opportunities for outdoor enthusiasts. Silver Springs, with its glass bottomed boats, has been drawing tourists to the area for over half a century. Glass bottom boat rides, kayaking, camping, hiking and canoeing draw many visitors to our area year around. Of course, our most outstanding nature reserve is the majestic Ocala National Forest. The forest is vast and lush. Therefore, it draws outdoorsmen to the Ocala area from far and wide. The forest's lakes offer some of the best fresh water fishing in Florida. They also create a picturesque settings for boating and picnicking. Nature trails provide an opportunity for enjoying vigorous exercise while appreciating our flora and fauna. Sorounded by over six hundred bodies of water, Ocala is a natures wonderland.
The mission of our Ocala Homes Videos page
On this page we will present videos which provide Ocala, Florida real estate market updates. Since understanding the transaction process is important, we will also offer tips for home sellers and buyers. Of course, there is more to life than buying or selling a home. So we will present news about our fast growing community as well.
Since everyone strives for a smooth transaction, we will offer suggestions to sellers focusing on actions that will minimize a home's time on the market and maximize its sales price.
Because a transaction requires both seller and buyer, we will present tips for buyers too. Our buyer tips will focus on maximizing their competitive advantage in the eyes of a seller. So visit often, since even one new thing learned can make all the difference.
Help Ocala Homes to be responsive to you!
We want to make our videos as relevant and responsive to your interests as possible, so we would appreciate your input. Therefore, we encourage everyone to get involved by asking questions or submitting topics you would like to see us address. Please submit suggestions using the inquiry form below.
So stay tuned and stay informed. Thank you!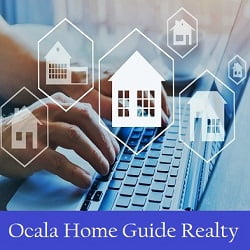 Click here to like us on Facebook!
"Nothing influences people more than a recommendation from a trusted friend." - Mark Zuckerberg