Here is another great reason to make Ocala your home. The Ocala National Forest serves as an area administered by the United States Forest Service. Since they so eloquently describe this national treasure, we have borrowed their words to introduce this magnificent forest to you. This nature reserve proudly wears the Congressional designation National Forest. It features an environment where the earth and its community of life are untrammeled by man. The forest's habitats are protected and managed to preserve their pristine beauty. Here, natural processes govern the ecosystem. As a result, the environment tests visitors' skills while the mosquitoes try their souls.
The forest possesses four distinct wilderness areas. Hiking and canoeing are the primary ways to visit each, as all predominantly contain a swampy interior of bays. These inlets are home to gums, maple and cypress with a perimeter of longleaf and slash pine flatwoods. Additionally, the four areas present a range of wilderness experiences suiting both novice and skilled outdoor enthusiasts.
While the remoteness of these swamps provides excellent opportunities for solitude, it also creates risks. There are high probabilities of encounters with resident bears, alligators, wild boars and other denizens of the forest. Be sure to be wary, keep your distance and limit such encounters to long range photo opportunities.

Of course, visitors must practice "Leave No Trace" and "Be Bear Aware" guidelines. They must focus on protecting the environment and staying safe. But the wilderness is a special place, full of adventure and the unexpected. Despite the fact that it is a world with few guarantees, it offers much to explore that will amaze!
Alexander Springs Wilderness
Encompassing 7,941 acres, this wilderness area between Alexander Springs and Lake Dexter, one of the many lakes in the St. Johns River chain of lakes, is a trackless place. Therefore, a paddle down the spring is the best way to explore this wilderness. This is a mosaic of hardwood swamp, hardwood forest, and scrub habitats.
Expect to see ancient shell middens beneath dense shoreline vegetation, and small islands topped with cypress and palm trees. Additionally, the area is a habitat to otters, wading birds, deer, and alligators.
Billie's Bay Wilderness
Legend has it that the Seminole warrior Billie Bowlegs hid out in this swamp, from which the headwaters of Alexander Springs arise.
Old-timers refer to swamps as "bays" and this one is a prime example of a pristine Florida swamp. In the interior of this 3,092-acre swamp, red maple, loblolly bay, sweetgum, cabbage palms and loblolly pine filter the sunlight, and on the drier perimeter you will find longleaf and slash pine. A dense understory of palmetto and gallberry hides the swampy interior and discourages any attempts at bushwhacking.
There are no trails or old roads in Billie's Bay, but a section of Florida Trail between Alexander Springs and SR 19 skirts the southwestern corner of the wilderness. From this corner, hikers can gaze into the wilderness and muse about the ancient alligators who inhabit its swampy waters.
Juniper Prairie Wilderness
Protecting the heart of the Big Scrub, the 14,283-acre Juniper Prairie Wilderness is perhaps the most famous of the four wilderness areas in the Ocala National Forest. It fronts and on SR 40, the Florida Black Bear Scenic Byway, and SR 19. The prominent signage on the highways introduces this wilderness to passersby.
This wilderness also is devoid of roads and unreachable by motorized vehicles or equipment. Additionally, this is a flammable habitat featuring the sand pine scrub for which our forest is famous. However, firefighters have limited access here because they are a fair distance away from this section of forest, and because of its relative seclusion. As a result, portions of the wilderness may seem denuded after a forest fire. But the scrub regenerates quickly, pushing up saw palmetto and young sand pines to provide shade and habitat for wildlife.
The wilderness contains a mosaic of habitats bound together by the flow of open prairies and ponds. Consider hiking, backpacking, or paddling through this wilderness. You will surely enjoy the flora and fauna, as this is a mosaic of pine flatwoods and hardwood swamps. Your adventure may also feature shallow lakes, grassy prairies, sand pine scrub, oak scrub, sinkholes, and sawgrass marsh.
Little Lake George Wilderness
At 2,883 acres, the Little Lake George Wilderness is the smallest of the wilderness areas. But this Ocala National Forest wonder is the only one that boasts a shoreline.
It is located near the confluence of the St. Johns and Ocklawaha Rivers at the northeastern corner of the Ocala National Forest. However, because of its remoteness, this area is best explored by canoe. No old roads or trails penetrate here. It's a dense swamp of red maple, gum, ash, cabbage palm, and cypress trees draped with Spanish moss. Additionally, small areas feature loblolly and slash pine on the drier western edge.
Juniper Springs Recreation Area in Ocala National Forest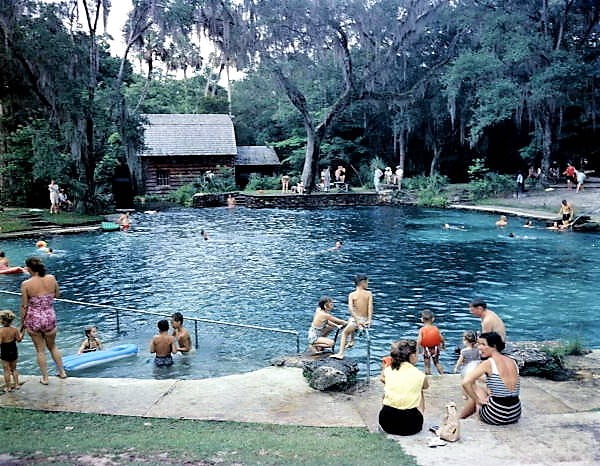 Jupiter Springs showcases sparkling springs in a subtropical setting. It is one of the oldest and best known recreation areas on the East Coast. Located between Ocala and Ormond Beach along SR 40, it features complex of swimming and picnic areas. Additionally, it offers a campground and hiking trails and was constructed in the 1930s by the Civilian Conservation Corps. The setting is unlike any other found in the United States. It is famous for many tiny bubbling springs gushing out of crevices beneath a dense canopy of oaks and palms. Therefore it is best described as an oasis in the heart of the wilderness.
Visit The Ocala National Forest & Commune With Nature
The amazing Ocala National Forest is the largest of many wondrous nature reserves within a few miles of our city center. To learn more about opportunities to commune with nature this scenic national forest offers, visit the forest service here.
Andrew Kruglanski, Broker
Ocala Home Guide Realty, LLC
andy.k@ocalahomes.online
Phone: (352)234-3048
Website: Ocala Homes Online
"Nothing influences people more than a recommendation from a trusted friend." - Mark Zuckerberg