The essence of Ocala haute cuisine is evolving as more and more amazing options become available every day. My wife and I are passionate about many things, but travel and fine dining near the top of our list. We have traveled to six of the seven continents and experienced the history, culture, art and culinary creations of many ethnic groups. Yet we marvel at the amazing chefs who call Ocala home.
Ocala Haute Cuisine: A Dining Experience Above Rome's Spanish Steps
The Hotel Hassler is located above the famous Spanish Steps in Rome. It is truly one of the finest hotels in the world. Entering its dining room, the Michelin starred Imagio, one immediately appreciates the panoramic view of the city, a truly unsurpassed view. From its windows you can see palaces, ancient ruins, castles and other wonders of the ancient and modern world. When we walked in, the Maitre D'hotel immediately greeted us and seated us at a table overlooking the famous Castel Sant'Angelo. In the distance we could also see the magnificent Villa Medici.
Of course, while the view was amazing, the piece de resistance was to be experiencing Chef Andrea Antonini's other-worldly cuisine. The meal did not disappoint. The Chef's white bean soup delighted the senses. The veal was so tender, it melted almost the moment it touched my lips. The Roman dessert was sweet, fluffy and light, and the Brunello Di Montalcino was truly an outstanding wine. No other wine selection could have accompanied our meal better.
As you can imagine, it would be difficult to duplicate the experience of dining at Imagio. However, Chef Ryker Brown and his outstanding team have brought a dining experience to Ocala that is much closer than I would have thought possible! Stirrups at the World Equestrian Center serves up an amazing gastronomic adventure!
Ocala Haute Cuisine: Dining At The Gray D'Or In Cannes
The Hotel Gray D'Albion in Cannes is a few steps from the Palais De Festivals, the theater which hosts the Cannes Film Festival. During the festival, guests clamor to book rooms and prices are high. However, by September both festival goers and summer vacationers have left. Remarkably, the weather is much more conducive to a great vacation then as well. Temperatures tend to be in the seventies to low eighties and the skies are usually a cloudless, bright blue. Additionally, beaches, stores and dining establishments are far less crowded at that time of year. Therefore, it should come as no surprise that we visited the Gray D'Albion then.
The hotel has recently undergone a complete renovation. However, when we stayed there, it featured a restaurant called the Gray D'or. This dining establishment often won the annual competition which crowned the best restaurant in Cannes. Dining there was an experience. The chef presented each dish as if it popped right out of the pages of a Cordon Bleu cookbook. Of course, the taste did not disappoint either. It tentelized the senses as nothing I had ever tasted before did. It was a truly amazing experience.
Of course, you wouldn't expect any restaurant in Ocala to compete with such haute cuisine. But surprisingly, you'd be wrong. Chef Partice Perron's Golden Spoon winner, La Cuisine, is in the same league.
Chateau Frontenac's Le Champlain Restaurant.
Chateau Frontenac is a magnificent hotel overlooking "old town" in Quebec City, Province of Quebec, Canada. Its haute cuisine restaurant, Le Champlain, may be our favorite. The hotel was built in the 1800s as one of a series of railway owned grand Canadian hotels. Then, in 1981 it was officially named a historic site. The featured image in this post is that of the Chateau.
Le Champlain features extraordinary cuisine which is best described as French Canadian steakhouse fare, a blend of French favorites and amazing steaks. Every presentation makes one's mouth water and every bite confirms that your eyes have not deceived you. But it is the outstanding wine list that makes this restaurant our favorite. We selected their finest bordeaux and while we enjoy bordeaux, this wine tasted like nothing we have ever experienced before. It was so smooth and delicately balanced that we had never imagined a wine could taste so good.
Of course, in a small town such as Ocala, one would not expect to find a restaurant with outstanding haute cuisine and a wine list as extensive as Le Champlain's. However, such a restaurant does exist here, the award winning Katya Vineyards.
Below are three articles that provide more insights as to these three fine Ocala eating establishments. Recently, The Michelin Guide arrived in Florida. It listed 116 amazing Florida dining venues and awarded a few of them Michelin Stars. While at present no Ocala restaurants appear on that list, I can only assume that this is because no Michelin reviewer has visited our town yet. In my opinion, Stirrups, La Cuisine and Katya Vineyards are all worthy of a Michelin rating!
---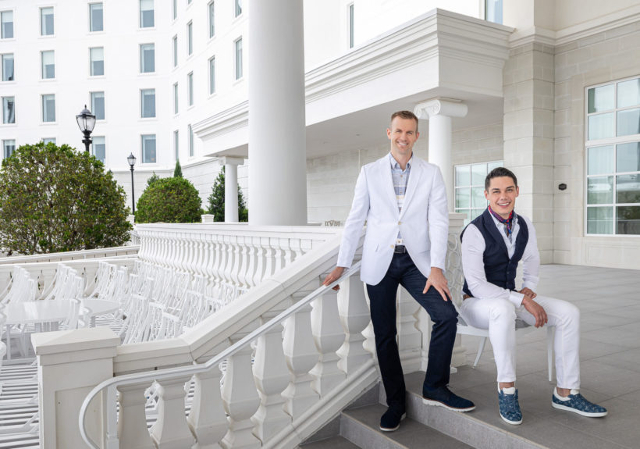 Meet the stylish leading men and their team of talented professionals offering a wide range of cuisines to please any palate at Ocala's chic new equestrian destination. The Roberts family's passion for horses and luxury housing projects is well known, but their newest venture, lovingly curated by matriarch Mary Roberts, is expanding the boundaries of … Continue reading – Haute Cuisine – Ocala Style Magazine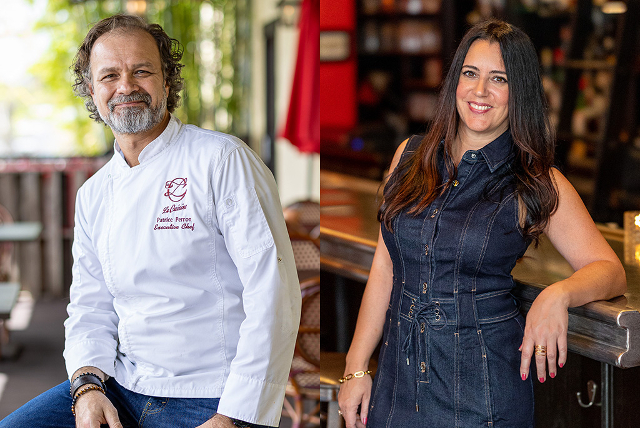 Chef Patrice Perron Brings The Tradition of Culinary Excellence of Lyon, France to Ocala
Patrice and Elodie Perron Food means different things to different people: comfort, tradition, celebration, entertainment and health to name a few. In France, the term "la cuisine" refers to the kitchen, a place in the home where most French parents spend a lot of time preparing food for their families. The combination of … Continue reading Our Story-La Cuisine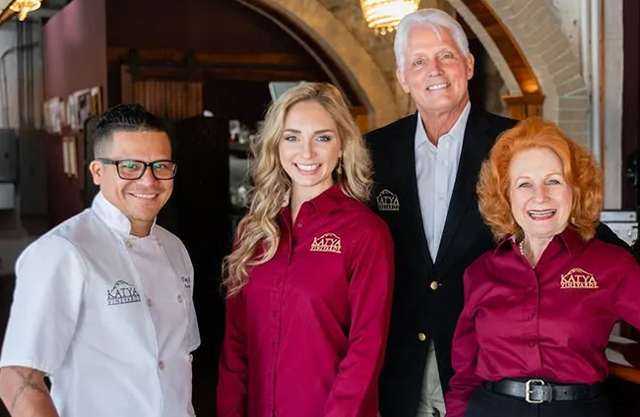 Chef Tony Deras Offers Gastronomic Delights To Patrons Of Katya Vineyards
Born and raised in Honduras, Chef Tony Deras arrived in this country at the very beginning of adulthood. Initially entering the culinary world as a means for income, Chef Deras immediately was taken with the art of true cooking. He enjoyed watching creations being made and fell in love with the process. Chef Deras realized a plate was more than a simple meal… it was an expression of love, an experience. His culinary career is decorated with a large following of patrons and allocates, including four awards from Best of the Best of Ocala 2017, including Best New Restaurant. Katya Vineyards is indeed outstanding!
Florida MICHELIN Restaurants – the MICHELIN Guide USA
Starred restaurants, Bib Gourmand, all the MICHELIN restaurants. Find the best restaurants in Florida on the MICHELIN Guide's official website. For inspector reviews and insights please see the MICHELIN GUIDE.
---
"One of the very nicest things about life is the way we must regularly stop whatever it is we are doing and devote our attention to eating." – Luciano Pavarotti
---
Ocala living is about taking some time from a hectic but exciting career to enjoy earthly pleasures like sharing wonderful meals with family and friends. It is also about taking the time to enjoy the lifestyle you have earned. As Realtors, we can help to make your dream lifestyle real!