In the new normal, fitness is more important than ever. While vaccines offer hope and a light at the end of the tunnel, the new normal still rules our lives. As of this week, less than eighteen percent of Americans have been fully vaccinated. Additionally, less than a third have received at least one inoculation. Therefore, while restrictions are gradually being lifted from those of us who have received two doses of a COVID vaccine, most of us still face risks and must remain vigilant.
Of course, we have all suffered the impact of living with the new normal for over a year. Additionally, the effects of our semi isolation have been both physical and mental. Even our children have felt the dangerous impact of our new, yet temporary, lifestyle. Because of this, all of us would be wise to take steps to defend and protect our health. Herein, we will look at steps we can take to remain physically fit.
While many gyms have been severely impacted by lockdowns and pandemic related regulations, a significant number still require close physical indoors contact. Therefore, it is no wonder that many people have begun gravitating towards a way to engage in healthy exercise at home.
The New Normal Impact on Fitness: Our Choices
My wife and I are clearly among those who have taken steps to keep fit at home. While we are convinced that it is possible to exercise safely in a gym setting, we believe that much depends on two factors. The first is the degree to which a gym operator is willing to implement CDC recommendations. But equally importantly, the second is the degree to which patrons are willing to cooperate.
While there are certainly health facilities in Ocala that offer a safe environment in which to stay fit, we have always dreamed of having a well designed fitness center at home. Therefore, we opted to respond to the new normal by making our dream a reality. Firstly, we researched the features we would want to incorporate into our home gym. Of course, we would have to provide for aerobic exercise and weight training. However, we also wanted to add luxury features like an infrared sauna, an audio system with wireless, sweatproof earbuds and a tv.
New Normal Fitness – Equipping Our Gym
While, we wanted our gym to provide fitness options that would last a lifetime, we also wanted to stay within budget. We began by purchasing a Healthtrainer treadmill. This device offers many electronic features, including preprogrammed routines for cardio training, weight loss and warmups. It has handgrip controls for speed and incline and a built in heart monitor. Of course, it was the most expensive addition to our gym, but well within the constraints we set. Then we added an Abcoaster machine. This machine offers positions to train the core, left obliques and right obliques. It also features posts beneath the seat where additional weights can be installed. It is an excellent piece of abdominal exercise equipment and is often available on sites like Ebay at a cost far lower than the manufacturer's suggested retail price.
Next, to provided a weight training option, we purchased a Bowflex clone. The machine provides rods totaling 440lb of resistance and is very easy to use. Changing resistance is a breeze and it even features a rowing option for cardio training.
The final touches were a two person infrared sauna manufactured in the Canadian province of Quebec and a modestly priced, yet good quality entertainment system. Fortunately, we were able to get a steal of a deal on the sauna from a liquidator. As for the latter, we purchased powered German speakers, an Insignia TV and wireless earbuds. Since we assumed that the noise of the equipment would counterbalance sound quality, we chose not to overspend on these components.
Our gym was is something we are truly excited about. However, we recognize that there are many less expensive, but equally effective ways to keep fit.
The Importance of New Normal Fitness
While we enjoyed the adventure of creating our dream home gym very much, we understand that engaging in such a project is not everyone's cup of tea. Of course, we have many friends who prefer the social setting of a health and fitness center. On the other hand, others prefer to be motivated by a personal trainer. However, we cannot overstate the importance of keeping fit and today's new normal makes doing so more important than ever. Fitness helps you to maintain a positive outlook on life, while making you better able to manage stress and think clearly. With a little effort, you too can find a way to keep fit safely. Don't overlook simple alternatives like daily walks. They deliver great health benefits as well.
Below are a few articles about the importance of staying fit. Enjoy reading:
Thinking Outside the Gym – Ocala Style Magazine
Over the past year, people found creative ways to workout daily. Of course, many opted to stay fit through at-home exercise regimens or…..Continue reading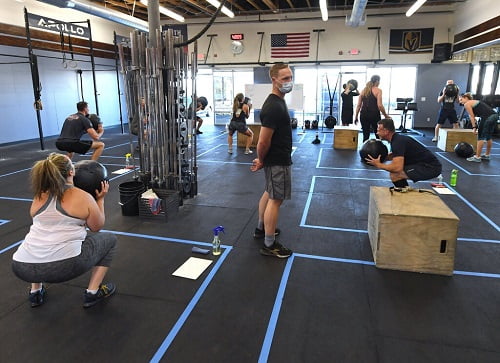 Is It Safe to Go Back to Group Exercise Class at the Gym? Because indoor fitness classes, which often result in heavy breathing in poorly ventilated rooms, can be risky, you must take precautions.. Here's a guide to help you decide if your gym is doing enough to prevent the spread of Covid-19….. Continue reading
Indoor Workouts at Your Gym may be a Terrible Idea Right Now. Therefore, cautiously investigate gym policies before you commit. Because COVID-19 safety protocols can vary widely from state to state, indoor workouts at gyms can pose serious transmission risks…..Read more
Andrew Kruglanski, Broker
Ocala Home Guide Realty, LLC
(352)234-3048
Website: Ocala Homes Online