Create the Ocala spa bathroom you dream of. Follow these tips to add value to your home by making your bathroom a luxury escape.1
Ahhh, the spa. For some of us, it's been too long since we've gone to a real spa. We miss the luxury of a hot tub soak and the power of sauna and steam rooms to align our body and spirit. So, we're doing the next best thing. We're remodeling our bathrooms with spa-inspired features to get that relaxing vibe at home. Enter the spa bathroom. The trend has even inspired a new word blend: spathroom.
Homeowners are searching out creative ways to enjoy their homes more. "We're looking for ways to relax at home versus going out. So, bringing that luxury home in the form of a spa bathroom is a logical next," says Dr. Anna Ruth Gatlin, an assistant professor of interior design at Auburn University.
But a spa bathroom can carry a hefty price tag. A bathroom remodel costs an average $35,000, according to the National Association of REALTORS'® "Remodeling Impact Survey." However, a budget-friendly remodel can be done for as little as $2,500, depending on the scope of the project and where you live, according to "Forbes Advisor."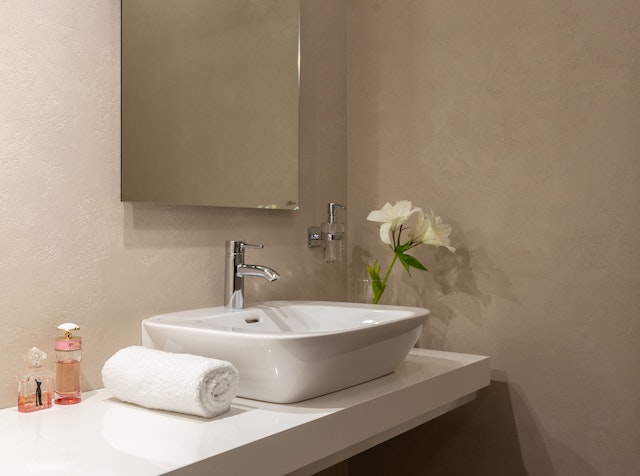 Ocala Spa Bathroom Ideas
Improvements that can add value to your home include upgrading your shower, adding storage, and refreshing your color scheme, according to Property Price Advice. Of course, a bathroom that needs upgrades will make the whole home much less appealing to buyers, says realtor.com®. Therefore, the website recommends that, at a minimum, sellers consider enhancing marketability through simple upgrades like installing new bathroom hardware. Of course, smart choices, like a new steam shower, can offer you the pleasure of pampered relaxation while you live in your home. To be sure, such improvements add value that can't be measured in dollars and cents alone.
#1 Install a Spa Showerhead.
Replace your plain showerhead with a more luxurious model to turn your daily shower into a restorative experience. We're not talking about changing out the whole fixture here, just the head. Therefore, you can easily do it yourself and be creative. Select a head with the features that excite you. For example, you can choose a rain showerhead that sprays water directly from above, or one with adjustable massaging spray patterns that sooth and pamper.
#2 Upgrade Vanities.
Updating your vanity can make a big impression in a bathroom without costing much money. You can transform a dated vanity with a new coat of paint, new hardware, and a new countertop. No need to rip out and replace everything. For example, imagine how your bathroom would look with the wooden vanity painted matte black, with shiny new brass pulls, and a countertop of white marble.
#3 Add Some Japandi.
Japanese meets Scandinavian in "Japandi," a bathroom trend that combines Zen with hygge for a design that looks like it stepped out of Ten Thousand Waves Spa in Santa Fe. Because Japandi uses a neutral color palette accented with brass or black fixtures and wood everywhere, it makes a strong connection to nature. Additionally, you don't have to remodel your entire bathroom in Japandi style. Instead, you can simply paint the walls a cool white tone and replace your vanity mirrors with round ones. Then swap out faucets, cabinet pulls, and towel racks with new black metal ones, and add open wooden shelves. Of course, bathroom paint is an affordable alternative to tile and an easy way to change the look of the room.
#4 Go for Gold.
Gold and brass have made a comeback, replacing silver and nickel trims as the finishes of choice in bathrooms. Therefore, now is a good time to upgrade your faucets, towel racks, showerhead, shower trim, and mirror frames with a yellow-tinged metal. "After nearly two decades of loving the cold industrial feel of steel, we're craving warmer-toned metals in bathrooms," Gatlin says. Since it's a cold world out there, we could all use the glow of a gold showerhead or towel rack to warm our souls and lift our spirits.
#5 Install a Towel Warmer to Add a cozy touch to your Ocala Spa Bathroom.
Nothing says "Ahhh, I feel like I'm at a spa" like stepping out of the shower and wrapping yourself in a warm towel. You can get that feeling at home by installing a towel warming rack in your bathroom. Fortunately, there are options for every pocketbook here. Warmers range in style from plug-in models that need no electrical work, to upscale models that an electrician will need to wire into the bathroom. But consider that the higher-end models will add lasting value to your home and do a better job of warming those towels and making you feel pampered.
#6 Opt for Natural Wood.
Pull up the tile, linoleum, or (shudder) carpet on your bathroom flooring. Then put down wood floors in a water-resistant material like teak, cedar, or hinoki cypress. This brings nature and warmth into your bathroom. Don't want wood in a wet place like a bathroom? Think about porcelain tile that's made to look like wood. You'll get the warmth of wood grain with the durability of tile.
#7 Put in Open Shelving.
A few rows of open shelving made of wood can make your bathroom more spa-like by adding the beauty of woodgrain. They also provide a place to stash your shampoo bottles, towels, and other grooming supplies that can clutter a bathroom. Open wood shelves will make your bathroom more functional effortlessly. Additionally, more storage almost always adds to a home's value.
#8 Add a Bidet Attachment to Your Ocala Spa Bathroom Toilet.
Once exclusively a European or Asian thing, Americans discovered bidets during the COVID pandemic, when fears of a toilet paper shortage spurred bidet sales. Bidets fit in with the spa bathroom aesthetic because spas are about cleanliness and purity. You can go for a full, standalone bidet, or get the same effect by buying a bidet attachment that fits onto your existing toilet. The best choice for adding value to your home is a bidet toilet seat that fits permanently onto your existing toilet and features a dryer function.
#9 Go Big With a Spa Shower.
This is a big-ticket item. Spa bathroom showers are usually double the size of a normal shower and tiled from head to toe. No shower curtain, just glass or stone doors or walls. The idea is to create a rainforest waterfall feel. They usually feature a wellness showerhead the size of a dinner plate with a range of spray patterns and chromotherapy lighting.
#10 Build a Wet Room to Complete Your Ocala Spa Bathroom.
We're in total room remodel territory now. A wet room would turn your Ocala spa bathroom into a waterproof space. This would dispense with the need for a walk-in shower and replace it with one that is separated from the rest of the space by a half-wall of glass or tile, or nothing at all. Such a room would feature a freestanding soaking tub too. The design would replicate the atmosphere of a luxurious spa. Hard surfaces of tile or stone would deck the walls, floors, and possibly even the ceiling. Such an ultra high-end bathroom would add luxury with a capital "L" to your home.
---
"Pamper yourself into alignment with who you really are and then face your day." — Abraham
---
All of us need pampering from time to time to recharge our batteries and get ready to face the world. That is why features like spa bathrooms add joy to the feeling of home. But however you do it, what ever your budget will allow, take time to smell the roses. Almost everything in life will work better if we take time to recharge it once in a while. Of course, your body and mind are no exceptions!
Andrew Kruglanski, MBA, ABD, Broker
(352)234-3048
andy.k@ocalahomes.online
Source:
Post by HouseLogic
"Nothing influences people more than a recommendation from a trusted friend." - Mark Zuckerberg