Bellechase, An Ocala Treasure
"Amazing choices among Bellechase homes for sale"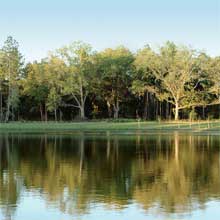 Bellechase Homes For Sale: Live In Nature's Enclave
The developers of Bellechase have created a private sanctuary surrounded by nature. To be sure, they have successfully blended architectural innovations, functional, yet luxurious design and the wonders of nature. Of course, this is a rare accomplishment of which they should be proud.
While majestic, mature trees filter dappled sunlight over quiet streets, the lure to adventure brews in one's soul. Then, suddenly a rustle of wings rises from a nearby pond as a large heron takes flight. Additionally, wooded surroundings and noticeable changes in topography offer irresistible invitations. Unavoidably, one is drawn to explore shaded paths and spacious park areas.
Because to the first-time visitor, the discovery of such a welcoming sanctuary nestled within the city limits seems quite remarkable, the adventure is all the more wonderous. However, these natural delights offer no surprise to those who have chosen to call Bellechase home. Since they were lured by them in the first place, they absorb them dreamily.
Flanked by massive, stacked stone pillars, an impressive stone gatehouse greets visitors at the entrance to Bellechase. Then, as they drive through the gate, they are ushered into a private community built upon nearly 600 tranquil acres. Of course, this amazing enclave soon causes them to forget how close to the heart of Ocala they truly are. While this community is located minutes from busy streets, its remarkably lush, sheltered setting belies a simple fact. Of course, all the conveniences of city living can be found among these peaceful lanes with their charming gas streetlights. Continue reading on Ocala Style Magazine.
The Architecture of Bellechase Homes For Sale
Bellechase features homes priced from under $400,000 to well over $1 million. Additionally, choice lots are still available. While quality master builders like Palladio Homes and Irvin Homes stand ready to build a dream home for you, the value of resales cannot be discounted. While some offer excellent value, quicker occupancy may draw you to them as well. Of course, available floor plans feature stunning chef's kitchens, spacious living areas and all the amenities a homeowner can desire. Therefore, if time is not of the essence, new construction may beckon you instead. Bellechase homes also feature architectural innovations and unique design features. Of course, one would expect no less from this fine community.
Location, Location, Location
Bellechase homes nestle in nature's wonderland. However, they are close to shopping, services, dining and entertainment options that make Ocala a great place to call home. Undoubtedly, there are amazing lifestyle choices within a short drive of this community. For example, theaters, museums, art galleries and fine dining establishments can be reached in fifteen minutes or less.  Additionally, the community offers a choice of lifestyles to please the most discerning home buyer. Therefore, this unique enclave is truly an Ocala treasure. 
"Nothing influences people more than a recommendation from a trusted friend." - Mark Zukerberg