An Evolving Real Estate Market & Ocala Home Prices
Ocala home prices have reached new heights. Over the past few years, a real estate buying frenzy bid up home prices to eye-popping amounts. However, as mortgage rates have risen, buyer demand has cooled. 1 Consequently, home sellers who enter the market today may need to reset their expectations.
The reality is that it's no longer enough to stick a "for sale" sign in the yard and wait for buyers to beat down your door. If you want to net the most money possible for your property in today's market, you'll need an effective game plan and a skilled team of professionals to implement it.
Fortunately, we've developed a listing strategy that combines our proven approach to preparation, pricing, and promotion. To be sure, it is designed to help you get top dollar for your home. But you must play an important role in implementing our strategy. Without your effort and commitment, even the most carefully thought out plans are unlikey to achieve optimal results.
Here are seven crucial actions you can take to position your home to successfully compete in this market: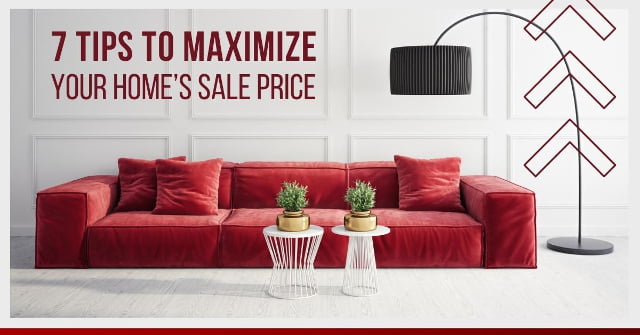 Make Strategic Repairs and Improvements
If you are planning to sell your home, you would be wise to consider what potential buyers want. Take note that according to the National Association of Realtors, only 6% of today's buyers report that they are looking for a fixer-upper.2 The vast majority want a move-in-ready home. Therefore, please understand that outstanding repairs and dated features may very negatively impact your sale.
Before we list your home, we'll conduct a thorough walk-through to identify any problems that could prevent it from selling. In some cases, we may recommend a professional pre-listing inspection. Finding and addressing issues like roof and plumbing leaks, wood rot and foundation problems up front can make the sales process go smoothly and translate to more dollars at closing.
We will also help you to identify the simple upgrades that yield the highest returns on your investments. For example, a fresh coat of paint can give your home a clean and inviting look, while rewarding you many fold at closing. But you must choose the right colors. For example, one study we are aware of found that painting your bathroom light blue may result in a 1.6% increase in the offer price you receive!3 Similarly, minor landscaping improvements can dramatically reward you at closing. For example, a second study concluded that a healthy lawn can yield a 256% return on investment.4
Declutter and Depersonalize
When buyers look at a home, they try to envision themselves living there. You don't want to distract them with family photos, children's artwork, and a display of your favorite souvenirs. Additionally, clutter can make spaces feel smaller and older decor more dated. Therefore, you would be wise to declutter and depersonalize before you list. Consider that you will have to pack to prepare to move anyway. Why not begin the process before you list and be rewarded for your efforts with a quicker sale at a higher price?
If you feel overwhelmed, we'd be happy to make recommendations or refer you to a local service provider who can help.
Stage Your Home for Success
Just as you take care to dress professionally for a job interview, why not stage your home to ensure it looks its best for potential buyers? Create a wow factor for those touring your home and you'll surely reap the rewards at closing.
Staging can be a game changer. According to the International Association of Home Staging Professionals, staged homes sell 5 to 11 times faster. Additionally, most sell for 4% to 20% over list price!5
Some sellers hire professional stagers to dress their homes for success. These pros can offer expert advice and even provide furniture and decor to increase the home's appeal. Other sellers choose to stage their homes themselves. Regardless which direction you choose to go, we can help make the process seem less overwhelming. So lets sit down and talk about it. We can help guide your staging choices with our local market insights. For example, in neighborhoods where many residents work from home, it may be effective to stage one room as an office so potential buyers can envision incorporating it into their daily routines.
Preparing For Showings
Most of us don't live a perfect existence, and our homes sometimes reflect that messy reality. But when your home is on the market, you must ensure that it is always ready to show, even on short notice. A missed showing is a missed opportunity to sell your home!
Before your home hits the market, you may be wise to hire professional cleaners to get in all the nooks and crannies and make sure your home is spotless. Then please try your best to keep things spic and span. Just a few minutes a day of wiping down counters, sweeping the floors and vacuuming can make a big difference. Want help finding a cleaning service to make your home shine for buyers? Then reach out to us for a referral!
It's also worth noting that most buyers will open cabinets, drawers, and closets. So try to make sure everything is as neat and organized as possible. Additionally keep toiletries and small appliances off countertops, secure valuables, and store sensitive documents in a safe place.
Price Your Home Correctly From the Start
In the past few years, you may have seen homes in your neighborhood sell for shocking prices. As a result, you may be strongly tempted to list your home on the high side. But it's best to price your home realisticly from the start. Even in a hot market, you can find some homes sitting on the market for months. Consider that the longer a property sits unsold, the more buyers worry that something is wrong with it.6 On the other hand, if you price your home competitively, your listing will be active and you are likely to sell more quickly and at a better price.
Of course, you also don't want to set your price too low and leave cash on the table. That's why it's essential to work with real estate agents who know the local market and can offer sage advice. In this quickly-evolving market, we can educate you as to market conditions to help you make informed decisions.
This may be an excellent time to sell, especially since recent reports show homeowner equity to be at an all-time high nationally.7 But of course, it's not about national trends. It's about you. Therefore, lets talk about your particular circumstances and tailor a plan specifically designed to meet your needs!
Avoid Acting on Emotion
The past few years of over-asking-price offers with few contingencies have set expectations for many sellers. Therefore, it's only natural to feel hurt or even offended if an offer comes in below what you think your home is worth.
However, it's important to keep in mind that those market conditions were unprecedented, and we are now returning to a more typical market. Remember that home sellers who act rationally, rather than emotionally, get the best results. Therefore, don't let your emotions handicap you. Simply counter a low offer and see where negotiations lead. Respond to repair requests and contingencies dispassionately too. After all, everything is negotiable. But also it's important to accept that the market is adjusting. So keep your emotions in check and remain open-minded. You can rest assured that we'll be by your side every step of the way to help you navigate the process and negotiate a great deal.
Work With a Local Market Expert – Understand Ocala Home Prices
The economics impacting mortgage rates may be national, but real estate markets are hyperlocal. That's why working with a professional agent who understands your neighborhood's dynamics is essential. Through years of experience, we've gathered insights that can help us position your home for success in this market. We have access to extensive data on recent sales in your neighborhood and will help you to price competitively. Then we will employ an innovative marketing strategy to expose your home to as many buyers as possible.
Knowledge and experience are key. As proof, look no further than a recent study conducted by the the National Association of Realtors.8 It shows that homes sold by experienced realtors received offers as much as 22% higher than those which were not. We can help you to understand Ocala home prices, the key to making a sound pricing decision.
YOUR AGENT AND ADVOCATE
Selling a home in a fast-changing market can be stressful. You're likely to hear conflicting advice and opinions from people in your life. Additionally, making decisions like what color to paint your front door or how much to list your home for can be overwhelming.
The market may be adjusting, but it's still highly advantageous for sellers and we are here to help you navigate it and make decisions that are best for you and your family. As local listing experts, we can advise you as to the steps you need to take to ensure a smooth, profitable transaction.
If you are considering buying or selling a home, we invite you to reach out to schedule a free consultation. We are happy to discuss your specific situation, educate you as to market conditions and help you to decide how to proceed. Ocala home prices are at their peak. Therefore, this may be an excellent opportunity to sell.
---

"Paradise is a state of being, more than just the name of a suburb or a home."― Raquel Cepeda

---
The decision to sell a home and seek a new lifestyle is very personal. As real estate professionals, it is our role to learn your plans and dreams, educate you to put you in a position to make informed decisions and guide you to the outcome you desire. It's all about you!
Andrew Kruglanski, MBA, ABD, Broker
(352)234-3048
andy.k@ocalahomes.online
---
Sources:
(1) Yahoo! Finance
(2) National Association of Realtors
(3) Zillow
(4) Angi
(5) Streamline Interior Designs
(6) Washington Post
(7) Realtor.com
(8) National Association of Realtors
Ocala home prices have reach levels not seen before and our economy is strong!
"Nothing influences people more than a recommendation from a trusted friend." - Mark Zuckerberg